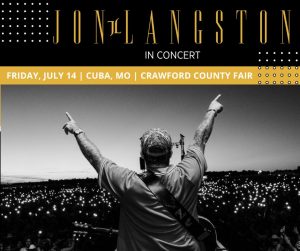 JON LANGSTON will be on the main stage Friday, July 14, 2023
Jon Langston grew up in Loganville, GA, listening to music by his heroes Alan Jackson and the Eagles. He played football, eventually earning a Division 1 college football scholarship. Jon always thought football would a part of his life, but after his sixth concussion left him blind for fifteen minutes, his football career ended abruptly. So, he picked up his guitar which he hadn't touched since the eighth grade and re-taught himself how to play. Playing open mic nights and working on his songwriting eventually lead to the 2013 release of self-penned, "Forever Girl," the first song he ever wrote. That release kicked off his music career which has culminated in sold out shows across the country and over 500 million career streams. Jon opened for Luke Bryan on his Farm Tour in 2017, which was a full circle moment having attended as a spectator of the Farm Tour only a few years before in Athens, GA. He was invited to perform on the tour again in 2018 and joined Luke in support of his Sunset Repeat Tour in 2019. Jon signed a publishing deal with Sony ATV, management with KP Entertainment, and is the first artist signed under Luke Bryan's new Label 32 Bridge Entertainment with EMI Records Nashville. Jon's debut major label single, "When It Comes To Loving You" reached No. 1 on the all-genre iTunes Chart. His most recent single, "Now You Know", reached the Top 30 on the radio charts.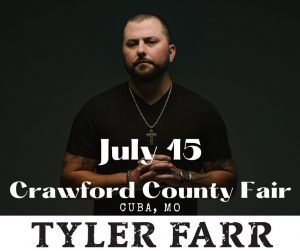 TYLER FARR will be on the main stage Saturday, July 15, 2023
"One of the best male vocalists in Country music today," (Taste of Country), Tyler Farr is the first artist signed to Jason Aldean's Night Train Records/BBR Music Group. The Country-rocker, with three No.1 songs to his credit ("Redneck Crazy," "Whiskey in My Water," and "A Guy Walks Into a Bar") broke onto the scene with the 2013 release of his debut album, Redneck Crazy, which landed at No. 2 on the Billboard Country Albums Chart and #5 on the Billboard Top 200. Farr's platinum-selling title-track "Redneck Crazy" projected Farr forward to celebrate back-to-back No. 1 singles, including his first No. 1 as a songwriter, with his Platinum-certified hit "Whiskey in my Water." His sophomore album, Suffer In Peace followed suit, also making its debut in the Top 5 on both the BILLBOARD Top 200 Albums and BILLBOARD Country Albums Charts, leading Farr to become the only solo male Country artist in the past decade to have their first two studio albums debut in the Top 5 on the Billboard 200 Chart.