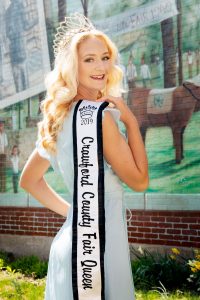 Dear Crawford County, 
A year ago, at this same time, I began reflecting on my year as the Crawford County Fair Queen to write this farewell. I joked with my family saying, "If I don't write this letter will I have to give up the crown?" Well, everyone knows that due to events beyond anyone's control, the Crawford County Fair didn't take place last year, and I was asked to remain the Fair Queen for another year. I didn't hesitate to say yes. It was such a privilege to hold the title for two years and represent the Crawford County Fair. 
During my two year reign, I was presented with a great number of opportunities. One thing you should know about me is that I love kids, and I am currently pursuing my degree in Elementary Education to teach Kindergarten. Right after being crowned in 2019, I was the emcee for the Prince and Princess contest. There are some extremely smart, funny, and brave kids who get on stage and win over the crowd. Not only did I get to be the one to ask about their favorite things, but I was able to help them begin developing skills that will last a lifetime. I also assisted with the Youth Pageant. Encouraging those amazing young women to be so courageous was quite the honor. Watching the hard work and showmanship that all of the youth put into showing their livestock during the fair was so great! I was truly amazed at the commitment they make. The fair just wouldn't be the same without cotton candy, lemonade, concerts, and bull riding. I made some memories with the other members of the Queen's Court during the fair that I will never forget. Just ask Kaylee if she's been practicing the air guitar for a rematch.
A couple of weeks after I was crowned as the Crawford County Fair Queen, I represented our community at the Missouri State Fair. What an experience! I didn't take away the crown, but I did take away an appreciation for Missouri agriculture and traditions. I also walked away with a few new friendships that are more valuable than the crown any day.
Believing that wearing the crown means that you represent your community and inspire others, I started thinking about the many opportunities I would have to volunteer. I showed my support at the Harvest Festival Queen pageant during the fall and was asked to be a part of a panel of judges for the Little Miss Steelville Pageant and the Christmas Pageant. I thought, "Wow, really? This will be so easy and so much fun." Well, it was loads of fun, but easy? Not even close! That was one of the hardest jobs I've ever had, and I have a new appreciation for pageant judges!  I rang the bell and gathered donations for the Salvation Army, participated in the annual  Trash Bash with the Youth Queens, and helped our community come together in support of the local food pantry during a time when it was needed the most. The community also came together for the annual "Running the Rails" fundraiser and I was privileged to not only run and hand out awards once, but twice!
I have so many people to thank I'm probably going to miss a few, so if you don't hear your name, "Thank You", I couldn't have done it without you. First, I would like to thank Miss  Melissa Albright for always answering all of my questions and keeping me up to date on what's going on in our community. Not to mention that she takes amazing pictures and makes me look great! I would like to thank the Directors of the Queen Pageant, especially Danielle Shafferkoetter and Danielle Bea for coordinating this pageant and giving me, and so many others before me, this great opportunity. I would like to thank the Crawford County Fair board for always making the fair seem effortless, and thank you to all of the volunteers as well. I want to thank my Mom for always pushing me to be the best person that I can be, as well as loving me unconditionally. Last, but certainly not least, Thank you Crawford County for being so supportive and amazing during the last two years. Good luck to the next lucky young lady who will become the Crawford County Fair Queen. 
Love , 
Charley Leonard 
2019-2020 Crawford County Fair Queen  
Queen Contestant Qualifications
Must be 17 through 21 years of age by July  10.
Must reside in Crawford County
Shall be single and have never been married
Those who are pregnant, have been pregnant, or cohabitate with someone of the opposite sex are ineligible to participate
Must have a sponsor
Must ride in the parade on  sponsor's float

Entries shall be made no later than June 3, 2021.

All talent must be performed the Tuesday night prior to the pageant.

If talent is not performed that night, the points for talent will be forfeited with a score of zero for the talent portion of the contest.

Talents may not be changed 72 hours prior to the talent practice.

Participation in all practices IS mandatory. All materials used in the talent portion must be present and functioning properly at the time of practice.

Conduct that is found to be improper and detrimental to the Crawford County Queen Pageant and the Crawford County Fair Board will be reasons for dismissal and/or disqualification.

The 2021 Fair Queen and the runners-up will reign over the 2021fair and must be available to assist the fair board with activities as needed

The Fair Queen will be asked to make personal appearances during the year at events in the county.

In addition to her prizes, the 2021 Fair Queen will receive $100 toward expenses if she competes in the  2021 State Fair.

The Fair Queen automatically relinquishes her title if she enters into a marriage contract or if she chooses to cohabitate with a male in lieu of a marriage contract

If the Fair Queen fails to complete her term, the title will be passed to the runners-up in the order of their rank, beginning with the first runner-up.

Pre-fair outings (excluding talent practice) for the queen pageant are highly recommended, but not required.

Being chosen as the Crawford County Fair Queen and her court is an honor, privilege, and a responsibility.  You will be expected to represent Crawford County with honor and integrity throughout your reign.  As Queen and the court, your conduct will be held to a very high standard.  In the event those standards are compromised, there will be 

consequences, and you could be stripped of your title.
Sponsor Information
Sponsor entry fee is $150 and must be received no later than June 7, 2021.
Sponsor is to provide contestant with parade float.
Judging Criteria
30% Interview
30% Public Speaking/Talent
30% Evening Gown/Stage Presence
10% Participation
5 additional points will be added per title to the total score of the girl(s) who are awarded  Miss Congeniality and Miss Photogenic.
In addition to other prizes, the Queen will receive a $500 scholarship to the college or university of her choice.
For additional information or to enter the pageant please contact:
Danielle Shafferkoetter 573-205-9600
Aimee McPherson  573-259-2111