Carnival schedule:
Tuesday, July 9 6:00pm-10:30pm
Wednesday, July 10 6:00pm-10:00pm (Arm Bands $20.00 at carnival midway must be purchased-WEDNESDAY ONLY)
Thursday, July 11 6:00pm-10:30pm
Friday, July 12 6:00pm-11:00pm
Saturday, July 13
Matinee (weather permitting) 12:00pm-4:00 pm Evening 6:00pm-11:00 pm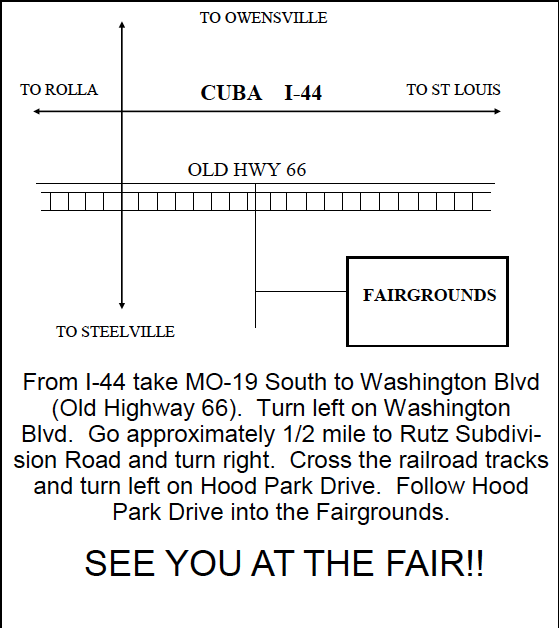 RULES AND GENERAL INFORMATION
1. There will be no season passes given away to any person entering the fairgrounds.  This includes Fair Officials, Exhibitors, Volunteers, and Concessionaries.
2. Profits—All profits go back into the improvement of the Fair Buildings and facilities and to finance succeeding Fairs.
3. The Fair Board reserves the right to pro-rate all premiums, should the total receipts of the Fair fall below the income necessary to meet current expenses of the Fair.
4. The Crawford County Fair Board will not be responsible to any individual, corporation or association for any losses by fire, theft, damage or personal injury sustained by anyone through the negligence of any person or group of persons, exhibits or exhibitors.  Any behavior deemed improper can result in removal from the fairgrounds by the authorities or fair board officers.
5. No introductions or speeches of political candidates on stage or over public address systems will be allowed.
6. No carry-in alcoholic beverages are permitted.
7. The Crawford County Fair Board prohibits the following items to be used as prizes or offered for sale at the Crawford County Fair:  odorous products (stink bombs, fart spray, etc.), morally objectionable or obscene items, firearms, knives, weapons, and/or drug related items, and/or other substances that imitate other types of drugs.
8. The Crawford County Fair Board assumes no responsibility for sickness or disease which may be passed between live-stock or between livestock and humans.  All exhibitors and fair goers are put on notice that they assume the inherent risk of contact with livestock.
9. Due to liability and the rising cost of insurance, the Crawford County Fair Board is limiting the number of motorized vehicles (ATV/UTV/golf carts) that will be allowed on the fairgrounds during the annual fair.  In order to operate one of these during the fair you must receive prior approval from Shane Staples (573-259-7405).
All ATV/UTV/GOLF CART OPERATORS MUST HAVE A VALID DRIVER'S LICENSE.